Home

Structural Products &  Services, Stairlifts
Furniture, Clocks, 
Accessories
Antiques, Folk Art, 
Fine Art, Auction Houses
Interior Design & Architecture

THE RAFTERS, NEW HARTFORD CONNECTICUT
by Anya Laurence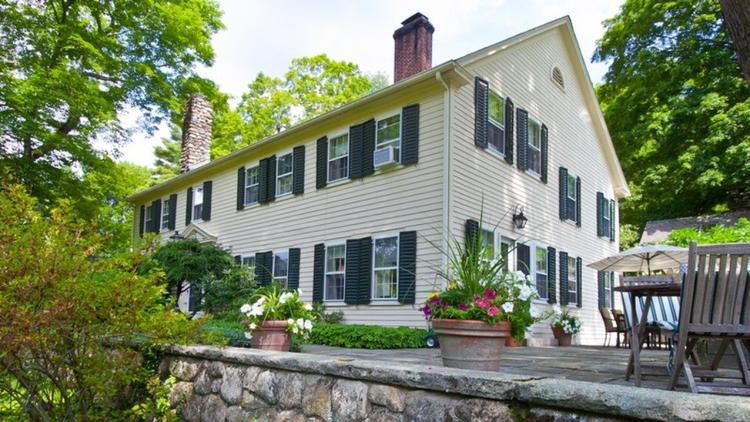 The Rafters, New Hartford CT
Many people have had crushes on movie or television stars, and I am no exception. A concert pianist, I often dreamed that I might play in Hollywood and my idol, Efrem Zimbalist Jr., would attend. The thought of meeting him was exciting, although I knew it would never happen. But one day it did happen, and I found myself playing his Sonata for violin and piano in Boston and New York City...with Efrem himself turning the music for me! He was the most charismatic gentleman, and that wonderful baritone voice! We remained friends until his death last year at the age of 95.
It was through Efrem that I heard about the house where his father, the celebrated violinist Efrem Zimbalist and his mother, the opera star Alma Gluck spent their summers. It became a sanctuary for them after the rigors of concertizing, and gave Mrs. Zimbalist many hours of joy tending to her rock garden. The home often hosted such family friends as George Gershwin, John D. Rockefeller, Sergei Rachmaninoff, Harpo Marx, Serge Prokofiev and many other luminaries.
When it was built in 1800 by a retired captain in George Washington's army, I am sure that he never dreamed that one day his house would be owned by two world-famous musicians, and later by their actor son. Built on 23.4 acres, the property includes an outdoor amphitheater and a long since abandoned music studio, where Efrem Sr. would prepare his concerts.



Another view of the house


The author Anya Laurence
with Efrem Zimbalist, Jr.
The property was renovated in the mid-1940's by the celebrated Olmsted brothers who planned and brought to life Central Park in New York City. The renovations included a European-style garden which is visited annually by members of the Garden Conservancy, a well-known horticultural society.
Efrem often talked about the house and he loved to go there, if only for a short time. He spoke about his young years there when one of his chores was to bank the coal furnace before bedtime. The house, a Colonial, has 6 bedrooms, 5-1/2 bathrooms, a square footage of 4,535, and a pool with cabana. There is also a tennis court (Efrem loved to play) and a caretaker's cottage. The formal living room is 27 by 15 feet and has a fireplace and French Doors leading to the large flagstone patio. Altogether a spectacular home, as the pictures will show.
This Connecticut Old House has history going back to 1800...from a captain in Washington's army to a playwright and his actress wife, Charles Rand Kennedy and Edith Wynn Matheson who owned The Rafters before the Zimbalists came along. A beautiful reminder of Connecticut's past, the house is now for sale, and it is hoped that the new occupants will treasure its history as much as the Zimbalists did.