Home

Structural Products &  Services, Stairlifts
Furniture, Clocks, 
Accessories
Antiques, Folk Art, 
Fine Art, Auction Houses
Interior Design & Architecture
THE RISING SUN TAVERN - c.1738

Rising Sun Tavern


The Rising Sun Tavern is an 18th century Georgian colonial located in North Haven, Connecticut.  It is listed on both the State and National Registers of Historic Places.  It is now a private home. 




Lady's parlor.






Bolection molding was common on 18th century fireplaces.

The Rising Sun was built by William Walter as a home and tavern, but was sold to Gideon Todd shortly after the death of Walter's wife.  Several generations of the Todd family successfully ran the tavern serving travelers for about 100 years.  The Todds also improved the road the tavern stood on, and charged a toll to pass through on the way to Middletown.  The structure is unique in that it was built with corner fireplaces in every room on both the first and second floors, with the exception of the "loom room" on the second floor.  Much of the interior woodwork, floors, and other finishes are original to the 1738 construction date.  The kitchen was first located in the basement, and the home's largest hearth and beehive bake oven are still located there.  In the 1810s a new kitchen was added as an ell to the back of the structure.  The taproom was slightly changed in the 1920s to incorporate a library in the home.  Parts of the tavern were supposed to have been removed and reconstructed in New York's Metropolitan Museum, but presumably the Great Depression halted those plans.  After the present owners purchased the property in 1996 they purchased a barn in nearby Guilford and had it reconstructed on the west side of the house.  None of the tavern's outbuilding are still standing, but remnants of old wells and rock walls that were originally part of the tavern's property can still be found on neighboring land.



Dining room remains much as it was when built. Work was done on the fireplace mantle in 1800.

No modern appliances are visible in the kitchen, but they are there. The food cupboard with the two stoneware crocks on it is 150 years old, as is the large closet on the left.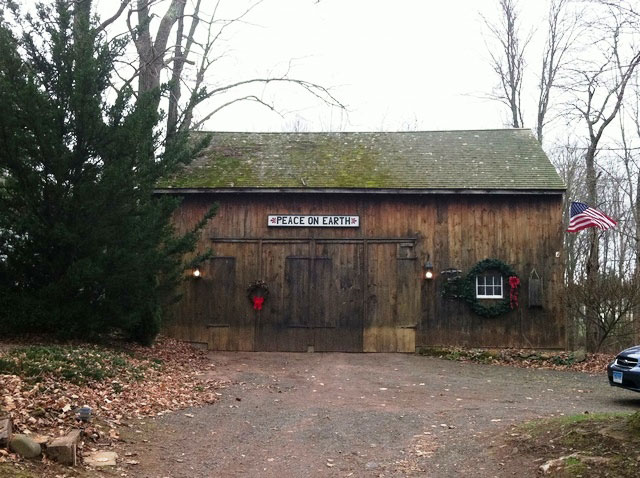 The barn was built at Guilford in 1820 and moved to the Rising Sun property in 1996.