Home

Structural Products &  Services, Stairlifts
Furniture, Clocks, 
Accessories
Antiques, Folk Art, 
Fine Art, Auction Houses
Interior Design & Architecture

PRACTICE MADE PERFECT: The Education of a Builder

by Max H. Peters

No craftsmen in the colonies could build as well in wood as the ones in Connecticut, where practice made perfect.
Richard Pratt, The Golden Treasury of Early American Houses

Roger Barrett Sr.
This is the story of a humble man, a man of the people, the great and innovative things he accomplished in the building trade during his lifetime, and the legacy of excellence he left in the form of sister companies Country Carpenters in Hebron and Early New England Homes in Bolton.

Roger Barrett Sr. was born in Windham in 1929, the son of a housepainter who also hung wallpaper. Roger dropped out of school in the 8th grade, returning a few weeks later in the paid position of janitor. By the time he was 16 years old, Roger had bought 18 acres on Babcock Hill in Coventry. By this time he was hiring himself out as a worker on various building projects, until his life was interrupted by a two- year hitch in the Korean War. Short on formal schooling, Roger educated himself by constant reading on a wide variety of subjects, something that became a lifelong habit.
At age 21, Roger, working mainly by himself, built a Cape style home on his acreage in Coventry. He married Lois, a marriage that lasted the rest of his life. In later years Roger gave Lois much of the credit for his appreciation of colonial homes. The two of them would go for drives in the country and Lois would point out the features of old houses they would come across. Roger and Lois had two children: Leslie, born in 1956, and Roger Jr., born in 1957. Roger Sr. continued to work in various aspects of the building trade and continued to haunt local libraries and bookstores, developing a special interest in the methods of the early New England builders. In this way he came to read the writings of the artist Eric Sloane, who won worldwide fame for his paintings of old Connecticut barns. Sloane wrote over thirty books articulating his belief that one antidote to the shortcomings of our mass-produced, disposable culture was in a renewed appreciation of the carefully crafted objects of the past. If you go to Country Carpenters' headquarters in Hebron today you will find a number of Eric Sloane's books for sale.

The critical turning point for Roger Sr. came in 1976. A young couple who had just purchased 35 acres with an old barn on it in Willington hired him to convert the barn into a residence. While doing this job, the proverbial light bulb went on in Roger's head. There was a niche for Colonial-style buildings in New England, and it was a big one. This is what all his work and all his reading had prepared him for. He put up a carriage shed as a demo, the first thing in the catalogue for the company that would become Country Carpenters. Next, Roger came up with the idea of making kits for carriage houses and other small buildings.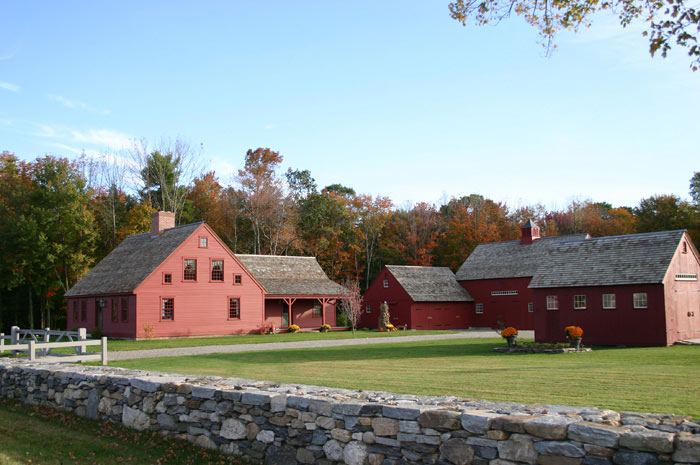 By this time internet marketing was just getting going. Roger jumped in with both feet, with spectacular results. Country Carpenters grew in time into a company that employed 35 people. General Manager Paul Baker, who has been with the company since 1993, tells of Roger Sr.'s brainstorming sessions with management, meetings where, instead of laying down the law, he would patiently tease out everyone's honest thoughts on the project at hand and bring everyone to a working consensus. "Roger Sr.'s greatest strength as a manager," says Paul Baker, "was his willingness to delegate to competent people. He ran the company from the ground up instead of from the top down." Roger Sr. also put together a library for his staff and workers and encouraged everyone to take books home. When someone, no matter what their job, took out a book Roger Sr. would take them aside when they brought it back and talk to them about the book one-on-one, hoping they had found something he had missed.
Since graduating from high school, Roger Jr. had worked by his father's side. Rather than making it easy for his son, Roger Sr. started him on the hardest physical labor and tested him rigorously at every level. Before long, Roger Jr. was ordering material and giving job estimates. By the late 90's Roger Sr. had turned the management of Country Carpenters over to Roger Jr. Until he passed away in 2011 Roger Sr. remained involved with the firm on a daily basis as a sort of elder statesman, encouraging everyone to see their work in the largest possible context. He believed that an appreciation of early New England values were the key to a future where the idea of sustainable living would take practical hold for people everywhere.

Taking up the leadership of Country Carpenters where his father left off, Roger, Jr. steadily - and holistically- expanded the company, eventually creating a sister company, Early New England Homes, which offers customers a choice of four 18th century style homes patterned after authentic houses in the Connecticut countryside.





Every September Country Carpenters hosts Colonial Day at their headquarters at Hebron. Employees demonstrate early New England crafts.
Eric Sloane prefaces his book,

A Reverence for Wood

, with a quote from Emerson: "Perpetual modernness is the measure of merit in every work of art." It is very close to the heart of Roger Barrett Sr.'s accomplishment to say that through persistent effort and long study he attained a special working insight into the classic timelessness of early New England style.




COUNTRY  CARPENTERS
326 Gilead Street · Hebron, CT 06248
860-228-2276 · countrycarpenters.com