Britton obviously did not think much of Putnam's "Modernism".  It makes one wonder what he would have thought of Avery's later style had lived long enough to see it.
Avery and Sally decided to elope and on May 1, 1926 they were married.  They spent their honeymoon in Hartford.  They moved into a one-room apartment in the Lincoln Arcade at Broadway and 65th Street in New York City, where his Hartford friends, Aaron Berkman, Wallace Putnam, and Vincent Spagna also lived.  The Hartford boys stuck together.  On December 29th his mother died.   While he did continue to visit and exhibit in Hartford, his ties with the city were lessening.
At the Connecticut Academy show in March of 1929, his painting, "Brooklyn Bridge", won the Atheneum prize of $200.  James McManus's portrait of Robert D. McManus won the Margaret Cooper Prize of $100.  Their respective styles could not have been more different.
In June of 1930, Avery and Sally were on their way to spend the summer in Maine when they stopped to visit Britton in South Manchester.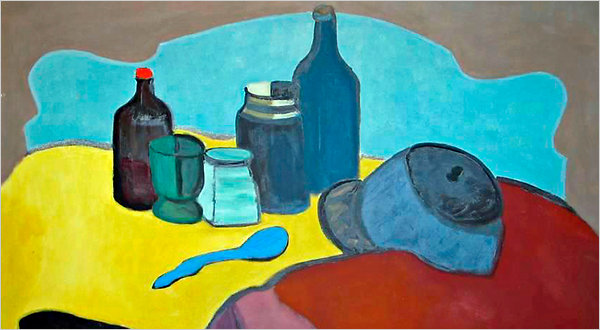 "Still Life With Bottles," 1944
June 1, 1930
(Britton is at home in South Manchester, Connecticut) "In come Milton Avery and his wife and another young woman from Hartford who is wearing a red dress. They all notice the portrait of Miss Judson first thing and like it much as they know the lady.  Then they look around.  They like the new portrait of Blumenthal and the one of Inukai.  Avery says of the one of Val (Theodore Victor Carl Valenkamph, 1868-1924)  "That was always a good canvas.  I remember it since I saw it in your exhibition in Smiths studio" 15 years ago. Mrs. Blumenthal comes in later and makes several criticisms of the portrait of B  (her husband).  Insists it is too handsome.  All ask for Mrs. B and Mrs. Avery asks for Jerome.  Avery says he is off to Maine (Misc. Volume 9, page 49)
They did go on to Maine but did not like the living arrangements and decided to spend the summer in Collinsville, a western suburb of Hartford.
They were back in Hartford in December for another show at the Atheneum that ran from December 21, 1930 to January 11, 1931.  The show was organized by A. Everett (Chick)Austin Jr., the Director of the Atheneum and included Avery's close friend Aaron Berkman, Russell Cheney of Manchester, and Clinton O'Callahan of Hartford.  The show included both oils and watercolors of all four painters.  This was the only show that Austin organized of local painters during his tenure at the Atheneum.  Austin's chief interest was European Modernism.  Britton notes in his diary on June 23, 1930 that the Atheneum was asked if they would accept a gift of a picture by Avery but they apparently never responded.
| | |
| --- | --- |
| Green Sea 1958 | |
Avery participated in his last show with the Connecticut Academy of Art in March of 1931.  Avery and Berkman showed together again in Hartford in March of 1935 at the Stavola Gallery.  Brinton's son Jerome told his father that the gallery could be rented for $30. In December of 1938 Avery participated in the Atheneum's show celebrating the 50th anniversary of the Connecticut League of Art Students.  He had two more major shows at the Atheneum during his lifetime, the first in March1953 titled "Milton Avery" and the second in May,1964, shortly before his death, titled "Paintings by Milton Avery".
Milton Avery died at Montefiore Hospital in New York City on January 3, 1965 after an extended illness.  His memorial service was held at The Society of Ethical Culture and he was buried in Artists Cemetery, Woodstock, New York.
He has continued to be honored in the city where he spent 27 years of his young life with regular exhibitions.  The first occurred just a few days after his death on January 5-13, 1965 at St. Joseph's College in West Hartford, Connecticut, featuring the works of his collected by Father Kelly.  In November 1968, the New Britain Museum of American Art in nearby New Britain featured an exhibition entitled "The Milton Avery Family".  In August and September of 1970, the William Benton Museum at the University of Connecticut in Storrs exhibited his works.  On April 30, 1989, the Hartford Art School at the University of Hartford honored their alumnus by opening their new Joseloff Gallery with a show entitled, "Milton Avery, the Poetic Vision".  Florence Berkman, the sister-in-law of Avery'sgood friend Aaron Berkman, regularly wrote articles and letters about Avery in the Hartford newspapers from 1957 until her death in 2000.
Avery remembered his difficult childhood in East Hartford with humor.  Florence Berkman, in a February 13, 1960 article in the Hartford Times entitled "Ex Hartford Painter's Exhibit Emphasized Color, Simplicity", wrote, "Someone once asked Avery if there were a reason why his paintings' space was reminiscent of Eastern art.  'Yes, I used to paint in East Hartford.' "
American Art @ The Phillips Collection, "Milton Avery (1885-1965)"
Britton, James, "Diaries, in James Britton Papers", Smithsonian Archives of American Art
The Hartford Courant Archives, 3/17/29
Haskill, Barbara, "Milton Avery", Harper and Row, 1983
Hollis Taggart Galleries, "Milton Avery (1885-1965)"
Moser, Joann, "Singular Impressions: The Monotype in America", Smithsonian Institution Press, 1997, Smithsonan American Art Museum website
The New York Times, April 30, 1989, ART: "Finally, Milton Avery has a Solo Show in Hartford"
Paquette, Lee, "Only More So: The History of East Hartford, 1783-1976", Raymond Library Co, 1976, page 213-214
SUNY Press, "Milton Avery and the end of Modernism"
Vered Modern and Contemporary Art web site, "Milton Avery, 1885-1965"
Win, Tiffany, "Milton Avery (1885-1965)", Quest Royal Fine Art website