Home


Structural Products &  Services, Stairlifts
Furniture, Clocks, 
Accessories
Antiques, Folk Art, 
Fine Art, Auction Houses
Interior Design & Architecture


HEBRON ELEMENTARY SCHOOL COLONIAL DAY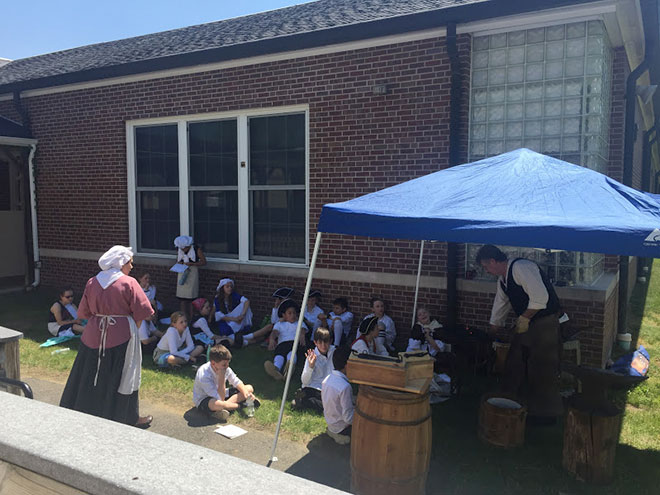 Teacher Kathy Anderson joins class of students watching Fred Brehant demonstrate blacksmithing.
     On Thursday, May 18, a hundred and twenty 5th graders at Hebron traveled back in time to Hebron's  colonial past. Books and computers were exchanged for hornbooks, yogurt treats ignored in favor of "Johnny cakes." The usual schoolyard games were preempted by the ancient frolic of "hoop and stick" and the klip-klap-klok of Jacob's Ladder toys. All six fifth grade teachers showed up for the day in period dress.
    Country Carpenters, headquartered in Hebron, sent over Fred Brehant,  its Manager  who also happens to be an accomplished blacksmith. Fred demonstrated to the kids how iron was worked in those incredibly far off days before electricity. "Fred was terrific," says Kathy Anderson, one of the 5th grade teachers. "It was a warm day and he was working away over a blazing fire for hours."  Five years ago Country Carpenters started a local tradition by proclaiming one Saturday every September "Colonial Day," when the grounds at Country Carpenters headquarters is transformed into a colonial village. Heron residents dress up in colonial era garb and demonstrate various aspects of Hebron life in its earliest days, including American Indian history.
    "The feedback from kids and parents has been terrific," Kathy Anderson reports. "The kids' imaginations are fired up. They want to learn more, see more."Hebron Elementary School is considering making a springtime Colonial Day a regular annual event for the fifth grade..