Home


Structural Products &  Services, Stairlifts
Furniture, Clocks, 
Accessories
Antiques, Folk Art, 
Fine Art, Auction Houses
Interior Design & Architecture
GOOD VIBRATIONS AT BREATHING ROOM
Expanding Yoga School Adds a Twist of Fresh Air to New Haven City Center
Photos by Skip Broom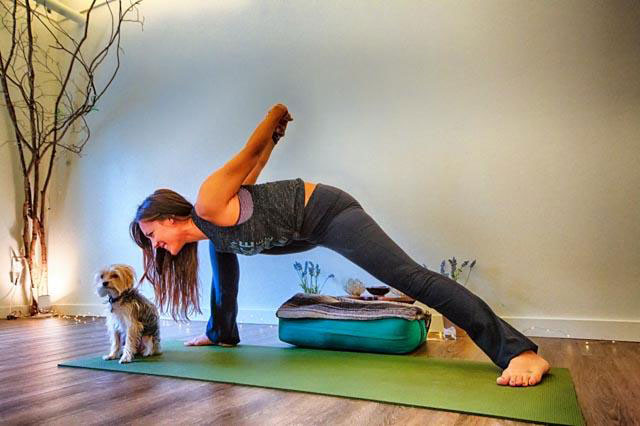 Margot and friend
   Margot Broom describes the students of her Breathing Room yoga studio as "a group of people from all walks of life who improve themselves in order to improve the world."

A few blocks from Yale University and the Yale Art Gallery, the Breathing Room takes up the second floor of the five-story,1928 Elks Building and expands into the second story of a connecting building. With Margot coordinating fifteen yoga instructors who teach 45 classes a week, the place is busy all the time.
    Margot started practicing yoga when she was thirteen and attending Cushing Academy in the Berkshires. After stints as an interior design assistant and antique salesperson, Margot became determined to open her own yoga school, which she did in 2009, starting in the antique store where she had worked for a time. From those slight beginnings, Breathing Room has grown into what it is today. The essential thing for Margot, who has 900 hours of yoga training, is that no matter how big school might get it will never outgrow its "family vibe," as she calls it. Yale grad students, working folks, and immigrants from everywhere mix in an environment of deep congeniality rarely encountered these days.
These photos were taken by Skip Broom, Margot'sfather, who, along with being a noted old-house restorer is an award-winning photographer. Thephotographs convey theArt Deco spirit that went into the original interior design ofwhat has become an urban oasis for the body and the mind.
CENTER HOURS
Monday - Sunday 8:30am - 8:30pm
PHONE + EMAIL
203.562.5683 info@breathingroomct.com
WHERE TO FIND US
216 Crown St. 2nd Floor New Haven, CT 06510
*Located in the heart of downtown New Haven on Crown Street,
between Temple and College.