GLASTONBURY, CONNECTICUT
By Christopher Gurshin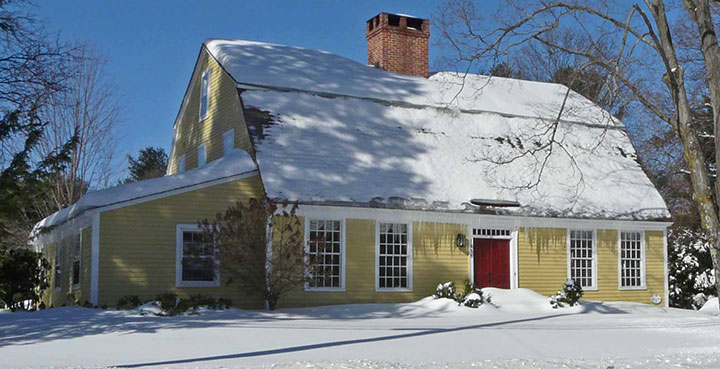 In last year's winter issue of A Primitive Place I wrote aboutthe early houses of historic Old Wethersfield. My wife Janice and I wanted to move there but there weren't any homes available at the time, so instead,  we were drawn to Glastonbury in 2002, the town next door across the Connecticut River. Glastonbury was known in the early 17th century as the east side of Wethersfield  and when the settlement grew it became difficult to cross the river to attend church at the meetinghouse.  By the end of the 17th century the population of householders in Glastonbury had increasedto a number of 50 homes,  of which there are only five that still stand today. For nearly fifty years the settlement sought permission from Wethersfield  to separate. It was required that an English town " hath a church" under the terms obligated  by the General Court  before it could separate from Wethersfield. It took two years to achievefinding  a pastor, but in 1692 they successfully foundRev. Timothy Stevens , aged 26, of the First Society . Under the inducement terms,  he wanted  land grants, salary and a suitable house built.   His terms were granted, he was ordained,  andby 1693 the township of Glastonbury was finally incorporated.





Thomas H. L. Talcott holding musket carried by Asa Talcott in Battle of Saratoga, 1777.
Wallpaper, the first in Glastonbury, was imported from England, 1738.

Janice and I moved into a 1740 Cape and learned more about the town after joining the historical society.  I was pleased to learn that Glastonbury had an interesting fact in common with Marblehead Massachusetts, my home town, with regard to the town's old houses. Glastonbury has the most  genuine Colonial homes, totaling 150, built before 1800  than any other town in Connecticut and more than all but one other town in America. Marblehead has the most pre-1800 surviving English colonial structures, havingover 200, which made for me a nice connection to have in common with my old home town.  Glastonbury is a large area for a town and although it has a small designated historic area, the colonial houses are scattered through -out.
It's always nice to be able to see the various old homes as I drive down Main Street  realizing how special they are and causing me to wonder about their history.  In the winter I like to imagine the fireplaces going back then keeping the homes warm on cold winter days.  The Welles-Shipman-Ward house built in 1775 is one of the houses owned by the Historical Society of Glastonbury and offers several events  where costumed docents cook a delicious dinner in the old fireplace  to experience the feeling of the earlier times.
There is a book, Glastonbury: From Settlement to Suburb, by Marjorie G. McNulty,  that tells about the beginnings  of Glastonbury,  from the Indians, to the settlers and into the present day.  For more information you may want to inquire at the Historical Society of Glastonbury,1944 Main Street or at www.hsgct.org.
| | |
| --- | --- |
| | |
   Editor's Note:

    The above article first appeared in the Winter 2015-16 issue of Primitive Place and Country Journal, a magazine that has become a leading national showcase for the best in primitive style décor and Americana arts and crafts.

   One thing I have learned, having known Christopher Gurshin for several years is that when Chris mentions a book go find it and read it.  In the article above Chris makes mention of Marjory Grant McNulty's  Glastonbury: From Settlement to Suburb. As soon as I finished reading Chris's article, I jumped on Amazon and bought the book, originally published in 1975 by the Glastonbury Historical Society and reprinted three times, the last edition in 1995, the one I had.  Not knowing what to expect, I began reading with increasing pleasure. This is one of the best history books I have ever read. In her vigorous, sometimes piquant prose, McNulty, starting with the Amerind peoples, illuminates the arc of everyday life in one place over three hundred years.

McNulty brings alive, in all their quirky humanity, the first residents of many of the 18th century homes that still line Main Street in Glastonbury for blocks.  Zephinia Hollister Smith, for instance, born in Glastonbury, was educated at Yale, ordained a minister andaround the time of the War of 1812 was called to pastor a church in Newtown. He got into a controversy over his beliefs with his pastorate and excommunicated his entire congregation and Was in turn dismissed by them. Smith returned to Glastonbury and became a lawyer.  Smith bought the old Eleazor Kimberly house at 1625 Main Street, where he and his wife raised two spinster daughters , Julia and Abby, who in old age, in 1878 created a sensation when they refused to pay their taxes  because as women they weren't allowed to vote! When Julia Smith died at age 94 the great woman suffragist Isabella Beecher Hooker said a prayer at her memorial service.

In roughly two hundred and fifty pages it's amazing how comprehensive McNulty's  account  is of life in one place through three centuries.  She seems  to  touch  on every aspect of life, no matter how seemingly mundane. Education board meetings, sewer planning sessions, racial tensions- every detail is an equally important part of the big picture. Writing of a school district budget meeting thirty years ago,  she  sums up the board members' attitude toward spending money:  "in the words of that old New England saying, to use it up, wear it out, make it do or do without."

    As a young woman Marjory Grant taught violin in Glastonbury, then joined the Hartford Courant in 1934. From 1939 to 1943 she was Society Editor. She married J. Bard McNulty, Professor of English at Trinity College.  Marjory Grant McNulty died in 2002. Her husband lived until September 4, 2015. In the course of learning about her I came across a most fascinating obituary of J. Bard McNulty written for the Hartford Courant by Anne M. Hamilton. Bard McNulty, founder of the Glastonbury Square Dancers Association, was as much of a character as any of the personages that people his wife's history.His obituary, which follows, reads like an afterward to Marjory Grant McNulty's book.