Home


Structural Products &  Services, Stairlifts
Furniture, Clocks, 
Accessories
Antiques, Folk Art, 
Fine Art, Auction Houses
Interior Design & Architecture

ECLECTRIC CHARM IN OLD LYME
    Duck Creek, a country house built in Old Lyme in the late 1930's, is, from the outside, already a hodgepodge. The brick of the walls and the slate of the roof came from an old post office that was torn down in nearby New London. The entrance suggests Tidewater Virginia. The terrace front with its long windows resembles a French pavilion.
Inside the house is a potpourri  of Italian marble, antique French paneling and parquet floors, Chinese and French wallpapers, Thai and Chinese silks, Chinese and French porcelains, and English and French furniture. All through the house the lighting simulates Victorian, wity antique chandeliers, sconces, and candlesticks equipped with candle-like bulbs.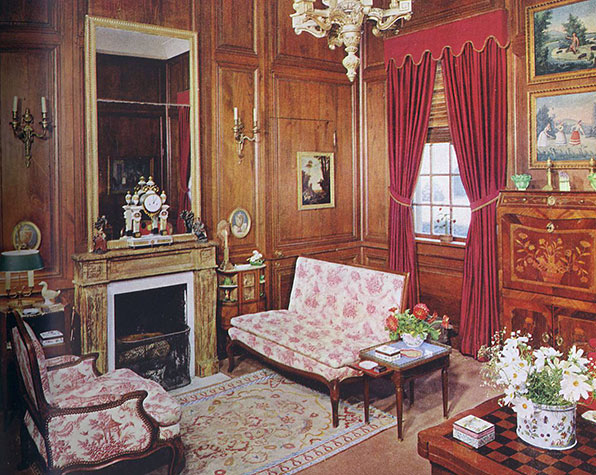 In the library the provincial chestnut paneling (c. 1770) from the region of Bordeaux is set off by red Thai silk curtains, provincial Louis XV furniture, flowers, and a much-used fireplace mak this a sympathetic and livable room. Above the wood mantle, which is painted to simulate marble, is a severe Louis XVI looking glass that belonged to the first French consul in New York.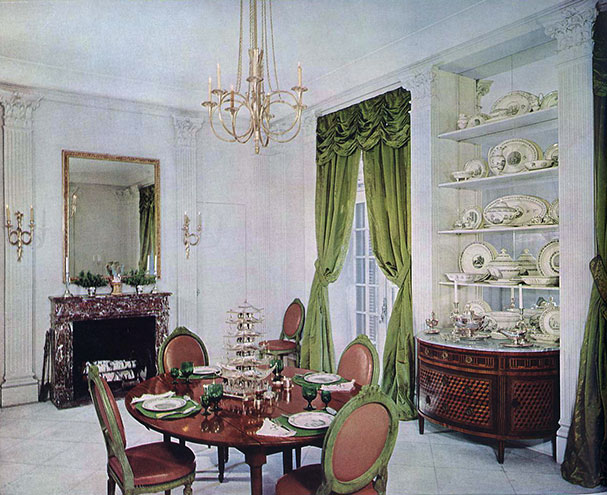 The dining room is an example of pure Louis XVI classicism, the antithesis of early, rococo styles. Measuring twenty-three by eighteen feet, the room is a French gray with a red marble mantel and a matching sideboard-console (not shown).