Home


Structural Products &  Services, Stairlifts
Furniture, Clocks, 
Accessories
Antiques, Folk Art, 
Fine Art, Auction Houses
Interior Design & Architecture

THE BUSH-HOLLEY HOUSE
by Anya Laurence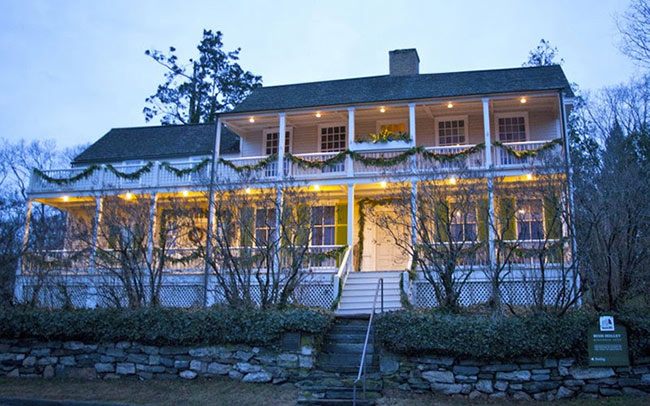 The Bush-Holley House by candlelight.
One of the most famous Old Houses in Connecticut is the Bush-Holley House, an historic building in Cos Cob which has a fascinating history. Originally a two-story, one-room house (1728-1730) situated on a hill overlooking the harbor, this structure soon grew to a main 'salt box' house a few years later.

A Dutch farmer named Justus Bush, who lived in the Greenwich area, purchased the house in 1738, but never lived in it. The son of Justus, David Bush, who was born in 1733, inherited the property and improved it by making some structural changes, panelling the parlor with fine wood and adding two out buildings to create a new addition which became the back kitchen wing.

Forty years later David, now a widower, married his sister-in-law, Sarah Scudder Isaacs, who brought five children to add to David's five, adding five more together. Later David Bush's son, Justus Luke Bush, inherited the house and bought out his brother Ralph's share of the father's estate.


Elmer Livingston MacRae


After many years the house changed hands, and in 1848 became the property of Josephine and Edward Holley, who added a second-storey porch and new windows, among other improvements. In 1882 the property began to operate as a boarding house for visiting writers and artists. A gentleman named Elmer Livingston MacRae arrived in Cos Cob for a class in painting and fell in love with Emma Constant Holley, the daughter of Josephine and Edward Holley. They were married in 1900. He became head of the Cos Cob Art Colony and he and his wife continued for twenty years to run the boarding house. This building also became a studio and gallery for MacRae's paintings.

In 1957, the widowed Constant Holley MacRae sold the building to the Town of Greenwich, which opened it as a museum in 1958. Exhibits feature artists of the Cos Cob art colony and well as information about Greenwich history and museum artifacts. The main house was listed on the National Register of Historic Places in 1988, and declared a National Historic Landmark in 1991.