Home


Structural Products &  Services, Stairlifts
Furniture, Clocks, 
Accessories
Antiques, Folk Art, 
Fine Art, Auction Houses
Interior Design & Architecture


F. BREHANT BLACKSMITHS
by Frederick Brehant III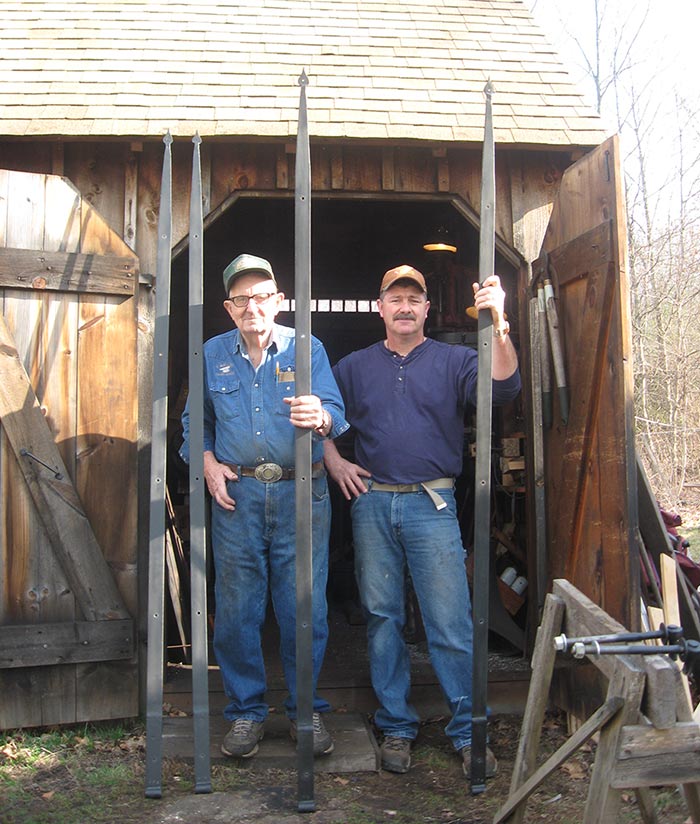 Fred-III-on-right
  
Editor's Note:  The F. Brehant Blacksmiths, Fred Junior and Fred the Third, have a unique home at Country Carpenters/Early New England Homes. Fred the Third is operating manager of the combined companies, which offers hand-crafted Brehant Blacksmiths  fixtures as an option on its post and beam barns and on Early New England Homes.
For over 100 years our family has been blacksmithing in Hebron, Connecticut. It began with my grandfather, Frederick Brehant Sr., who was born and raised in Guernsey, England.  After apprenticing as a blacksmith and wagon maker, he joined his brother who had earlier come over to the United States. They took up shop in the northern end of Hebron, a small section called Gilead. After several years they moved their shop to Amston in the southern end of the town. Eventually, my grandfather brought the blacksmith shop to his home. My father, Frederick Jr, spent much of his young life in that shop helping his father.At the same time he was learning the Blacksmith trade that had become a part of our family tradition.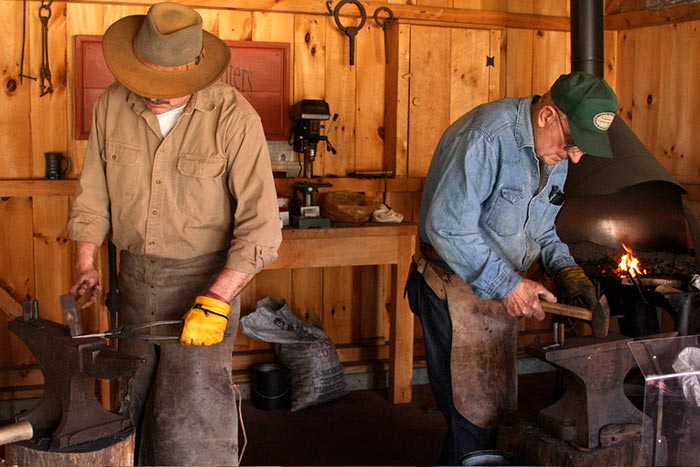 My dad and I working on Hand forged hardware.
My father built his home in the hay field beside my grandfather's farm.  In this space he also constructed a barn to house his Blacksmith and Woodworking shops. I grew up in the shop, helping my dad while learning both the blacksmith and wood working trades.
Most of the tools we use today are from my grandfather's original shop in Gilead. The well-worn handles of the hammers and rounded edges of the anvil tell the story of a forgotten past. Not long ago, it was common for one to be traveling through town and smell the coal from the forge. Some might even have heard the rhythmic ring of the anvil. Today these traditions are all but lost. When my dad and I have an opportunity, we love to demonstrate our craft to this generation.
Hebron Colonial Day is an event that allows us to share our passion for traditions of days past. Dressed in clothing of 1750 and working a bellows to feed air to the forge, we show what life was like in Hebron's early blacksmith shop. Today, my dad and I find ourselves busy forging Hardware for local barns and homes. Most of our handcrafted hardware is provided to Country Carpenters and Early New England Homes. Thankfully, we still have some opportunities to create items for our local friends.