PLAINVILLE, CT (January 15th, 2017) –Chandeliers with a mid-century modern look will illuminate an exciting January 15th sale at Winter Associates that includes modern art and furniture, tribal, jewelry, Americana, and more. For sale are three Italian Sputnik chandeliers, one c. 1990 with over fifty brass arms and glass bulbs, and a pair c.1970 with twenty white glass globe shades. The space-age fixtures are complimented by a pair of "Quadrifoglio" table lamps with caramel plastic shadesdesigned by GaeAulenti c. 1974.

Lots  17, 174, 122, 169. 161
19th/ 20th C., largest: 42"


Lot 50
Tiffany Studios
   Collectors of modern art will find a whimsical mixed media composition by Fabrizio Plessi (Italian, b. 1940) entitled "Spugne Di Emergenza" that depicts large brightly colored sponges standing sentry in a Venetian canal. Stephen Mueller's (American, 1947-2011) oil and acrylic on canvas "Standoff" is a color field composition with swaths of brown, yellow and blue and is being sold to benefit the acquisition fund of the New Britain Museum of American Art. Works by Betty Gilman (American, 1924-2017), a trained New York City artist who created in various media includes "Eternity" a grey veined marble abstract sculpture, and several paintings ranging in style from Impressionism to Cubism and Abstract Expressionism.
A selection of 20th C. works on paper includes a floral watercolor by Maine-born artist Waldo Peirce (American, 1884-1970), a Max Weber (Russian-American, 1881-1961) watercolor and graphite on paper depicting a potted plant, and a Burton Silverman (American, b. 1928) watercolor depicting the artist in his studio. Those in search of more traditional artwork will find a George Laurence Nelson (American, 1887 - 1978) oil portrait of his wife, "Mrs. George Nelson," an Addison T. Millar (American, 1860-1913) oil "Late Autumn" depicting haystacks, and a Henri de Toulouse-Lautrec (French, 1864 - 1901) 1896 lithograph depicting "The Arton Trial (ProcèsArton)."
The auction catalog is available at www.AuctionsAppraisers.com after January 5
Lot 88
A.Dargelas, oil, 17" x 16"


Lots 47 & 81
Americana
The sale features two stainless steel abstract sculptures by German artist VolkmarHaase including "Icarus," 27" h. and "The Gate," 25" w. Haase has created many sculptures for public spaces in Germany and his work often deals with mythological themes. From the same home comes a Seccose dining table by MakioHaisuike in matte aluminum and seven "Chit Chat" chairs designed by Kerr and Company for Keilhauer. Other modern furniture includes a pair of Hans J. Wegner for Getama Danish lounge armchairs with celadon green upholstery.
From an Eastern Connecticut collection comes a wide assortment of tribal sculptures, figures, and weapons including a 19th C. Cook Island adze. The tool has a black stone blade and a square form handle with carved geometric design. A set of three Nigerian Yoruba carved wooden "ere ibeji" figures are adorned with beads and distinctive blue painted coiffures. The figures are created in the memory of the departed and through ritual become repositories for their souls. Other intriguing tribal objects include three Benin bronzes one depicting horse and rider, a 20th C. New Guinea spirit figure, and a variety of carved masks and headdresses from Zaire, Mali, and Ivory Coast.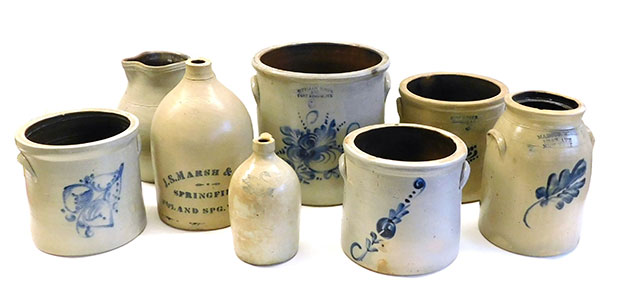 Lots 18, 21, 23, 26, 28, 29
19th C. American

   In time for Valentine's Day is a handsome selection of jewelry including a freeform 18K pin with diamonds and emeralds and a charming 18K cherub pin.A large assortment of stick pins set with diamonds and semi-precious stones includes one in platinum with 1.36 ctw of diamonds. Fine sterling for sale includes four pieces of Royal Danish hollowware, a Tiffany "Strawberry Vine" serving spoon, and nine pieces of Whiting 'Arabesque' flatware with griffin decoration.
From a local home comes a collection of Americana including late 19th/early 20th C. quilts, painted wooden whirligigs, and stoneware crocks and jugs. A selection of American furniture includes an 18th C. slant lid desk, a 1925 Wallace Nutting "Pilgrim" armchair, and an assembled set of Brewster style chairs. Also for sale is an assortment of early photography includes daguerreotypes, ambrotypes and tintypes, many portraits and family subjects.
The auction catalog is available at www.AuctionsAppraisers.com after January 5


Lot 164
18K, Emer., Diam.

Lots 167, 194, 170
Plat.; 14K; Diam.
Lots 46, 53, 67
Americana

Lots 42, 43, 48, 49
W. Nutting chair, etc.

The auction catalog is available online at www.AuctionsAppraisers.com ten days prior to the sale. Winter Associates, Inc. is located in central Connecticut at 21 Cooke Street in Plainville, CT. Previews are Sunday, January 14th from 2:00 – 4:00 p.m., and on Monday, January 15th from 3:00 – 6:15 p.m., or by scheduling an appointment at (860) 793- 0288.