Home

Structural Products &  Services, Stairlifts
Furniture, Clocks, 
Accessories
Antiques, Folk Art, 
Fine Art, Auction Houses
Interior Design & Architecture


A PLACE FOR ALL SEASONS
Hiking the Lower Connecticut River
All photos by Skip Broom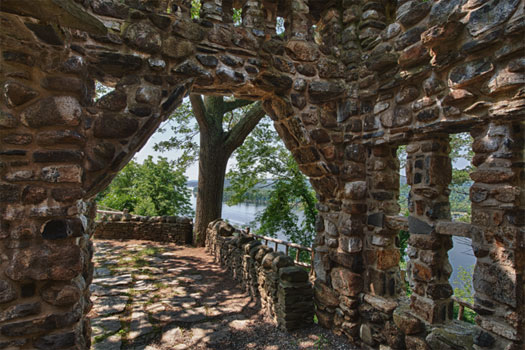 Gillette Castle

  This isn't adventure. What you really want is to keep up your relationship with the big river. You want to stake out your routes to the river so you can come back to it again and again, all year long.
The quirky stone Gillette castle is a landmark, worth an article itself. For now we're going to concentrate on the the 122acres that make up the park. The great actor William Gillette helped preserve  it when he insisted  in his will that the property must not fall into the hands "of some blithering sap-head who has no conception of where he is or with what surrounded."
Standing on the porch of the castle on a bright summer afternoon, watching the Hadlyme-Chester ferry move between two pristine shorelines, is a direct cognitive transfer to a world of long-ago.     
Google for directions. When you get there, look for the sign that says "Loop Trail to River Vista."  The loop can be hiked in an hour and a half, but give yourself another one to three hours, depending on how much you like to look at a river.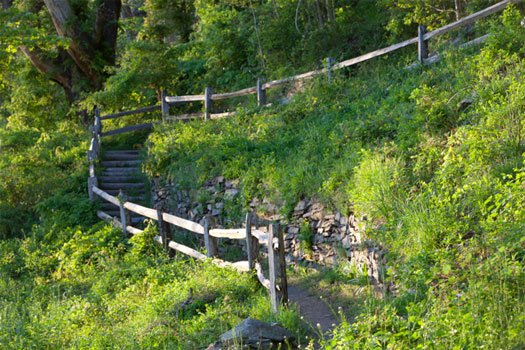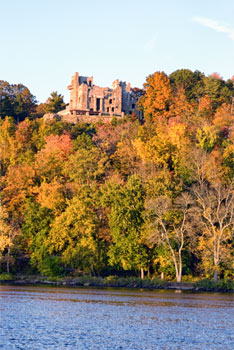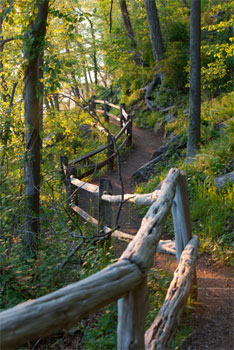 Gillette Castle State Park
61 River Road · East Haddam, CT 06423
860-526-2336 · Open all year
  Just a short drive upriver from Gillette Castle is Hurd State Park. At about a thousand acres, Hurd is seven times the size of Gillette Castle State Park and draws less visitors- a lot less. The park is named after the Hurd family, which came to the Middle Haddam region from Massachusetts in 1790. That's the last big thing that happened on these thousand acres.  If you enjoy being deep in nature, with the big river your constant companion, you might want to give this place a try. If you go, you will be rewarded for your exertions  climbing Hurd's steep hills by fantastic views on all sides. "The trees here are different from trees on surrounding hillsides," Gerry and Sue Hardy point out in their book, Fifty Hikes in Connecticut. "Sycamores, dying elms, tall sasafrass, cottonwoods, silver maples, and willows form this canopy."
On a weekday this past summer I tagged along with Skip Broom as he took the photos for this article.  It was hottish, up in the 80s by eleven o'clock. At Gillette Castle there were about ten cars at the castle and nobody on the trails. At Hurd, we had the whole place to ourselves. We climbed down to a flat section of the bank that was covered with manicured lawn. We sat at a picnic table at waited for a breeze that didn't come. For that moment,  Hurd Sate Park might just as well have been a private riverside resort with us as its only customers.

There are fireplaces, pit toilets, a covered picnic pavilion and a working hand-pump where the three main trails at Hurd State Park cross. Gates are closed after the first snow falls, and after it melts in the spring. There is winter parking available for hiking and cross-country skiing.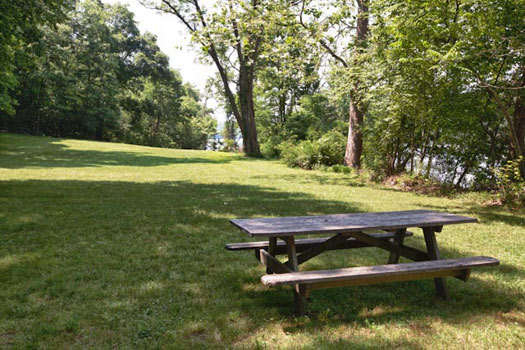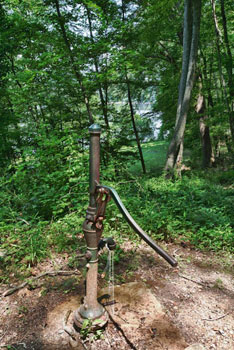 Hurd State Park
67 River Road · East Hampton, CT 06423
860-526-2336
Google for directions.