Home

Structural Products &  Services, Stairlifts
Furniture, Clocks, 
Accessories
Antiques, Folk Art, 
Fine Art, Auction Houses
Interior Design & Architecture

YANKEE ORIGINAL
The Paintings, Murals, Boxes, Miniature Houses, and Decorated Furniture
of Christopher Gurshin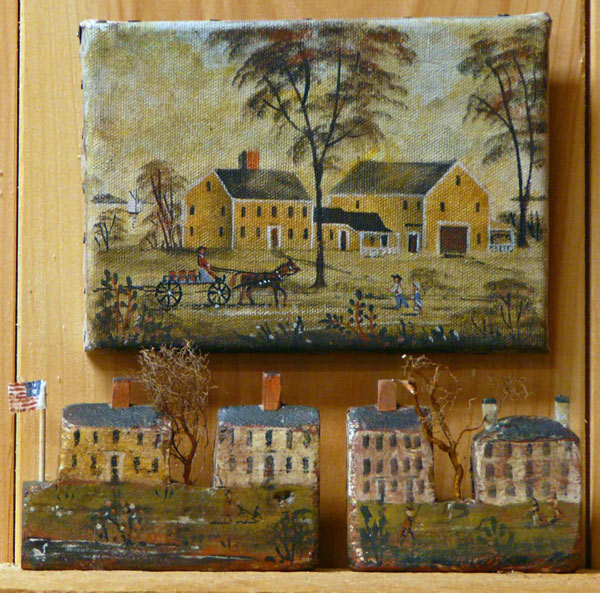 Painting and Houses
In 1965, when he was nineteen, Christopher Gurshin had a job washing dishes at the King's Rook Coffeehouse in Ipswich, Massachusetts, but he knew deep down he was destined to be an artist.  Gurshin started out with no formal training and no connections in the art world.  As a boy growing up in Marblehead, on Boston's North Shore, he drew and sketched away, and there always seemed to be one more boat or old building to get down in his sketchbook before it was time for him to get on his bike and head for home.
You could say that, aside from the fact that he earned his own luck, the fates lined up in Christopher Gurshin's favor. He worked his way up from dishwasher to manager of the King's Rook, where creativity was constantly buzzing around him. During his first night washing dishes, Judy Collins, just starting her career, was playing there. "I dropped a container of silverware," Chris recalls. "She stopped singing and said 'What was that?' I thought it was my first and last night on that job."  John Updike, who lived in Ipswich, would drop by on Wednesday evening, sit by the fireplace, and read from his works to 30 to 40 people sitting in candlelight.
| | |
| --- | --- |
| Leather Man Days | Town Main Street |
Chris had no academic art training but was educating himself on traditional New England folk art. He knew that many of the early masters had started out making signs for businesses, so that's what he figured he would start doing. His plan was to begin with tavern signs and move to paintings on wood and murals. He was still working at the coffeehouse, doing signs on the side, when he got to know Gardner Damon, Vice-President of the Salem Evening News. Damon, impressed with his young friend's dedication and what he saw of Gurshin's work, offered him the use of a building he owned in South Essex, Massachusetts.  The place sat on the shore among the antique shops of Burnam's Corner. Gurshin opened his studio in 1966, calling it The Yankee House.  As work started coming in at a quicker pace, he changed the name to simply Christopher Gurshin.  After  four  years in South Essex,  he lived in Newburyport, Massachusetts for 29 years before moving to Glastonbury, Connecticut in 2002, where he lives with his wife Janice in a 1740 Cape house by the Old Cider Mill on Main Street.
| | |
| --- | --- |
| | In an article in the August 7, 2005, New York Times, Sam Hopper Samuels wrote about the early 18th century folk artist Rufus Porter's "uniquely American blend of creativity, ingenuity, practicality, and energy."  Gurshin, who considers Porter a major influence, demonstrates the same base of early American "symmetry and optimism" that so impressed the New York Times writer about Porter. Beyond that base, it must be said that Gurshin has moved far in his own personal direction. |
Rufus Porter was a polymath; his vision stretched out with no limit in all directions: he invented labor-saving machinery and started Scientific American magazine. Gurshin's heart is all in his art, whatever form it happens to take. Gurshin's  painting "Snowflakes in Connecticut," for example, snowflakes seem to be flying off the painting into your face. Smoke rises from two chimneys and becomes one with the snow and the stars, an ox dragging a sledge follows a man, and two children run through the shallow snow, their tracks reflecting blood-red light.  The old folk art tradition, for Gurshin, has become a platform for ever-new creative inspiration.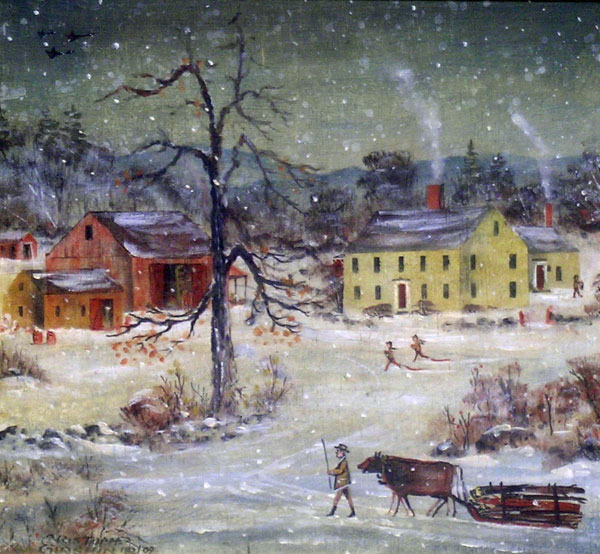 Snowflakes in Connecticut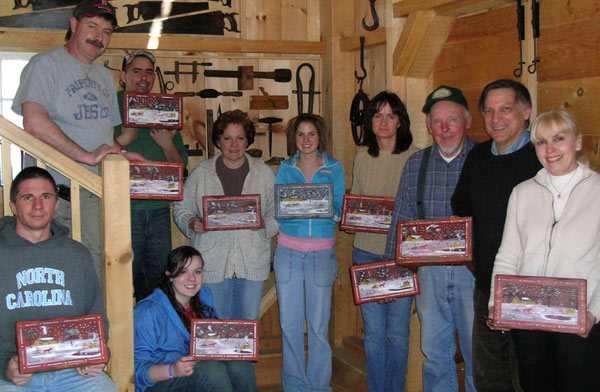 Roger Barrett Sr., Christopher Gurshin and Janice Gurshin (right), along with attendees at Gurshin's one day class at Country Carpenters.