Home

Structural Products &  Services, Stairlifts
Furniture, Clocks, 
Accessories
Antiques, Folk Art, 
Fine Art, Auction Houses
Interior Design & Architecture

THE VERY SPIRIT
The Americana Gospel of Rufus Porter According to Jean Lipman
By Max H. Peters
Beauty must come back to the useful arts, and the distinction between the fine and useful arts forgotten.
Ralph Waldo Emerson, Nature

There is no differentiation between the practical and fine arts.
Jean Lipman, Rufus Porter Reconsidered

   It seems amazing, looking back to the mid-60s, how excited some of my fellow students at Norwalk High and myself were about our artistic heroes in Europe and NewYork, while just a few miles away in Wilton Jean Lipton was sitting in her 18th century house, quietly writing books that would change the way that America looks at its art.
Since her death in 1998, her influence in the world of folk art has continued to grow. The Winter issue of Antiques and Fine Art magazine features the introduction by Elizabeth Stillinger and Ruth Wolfe to their exhibition "Folk Art and American Modernism," on view through December 31 at the Fenimore Art Museum in Cooperstown, New York. The introduction ends with a tribute to "the kind of dedicated research Jean Lipman encouraged and practiced during her long career." The key word here is "dedicated"; in Jean Lipman's case it refers to something beyond scrupulous professionalism. For Lipman and her followers scholarship is not an end in itself but part of an ongoing campaign to establish American folk art's equality with studio or academic art.




Jean Lipman stands in the living room of her Wilton, Connecticut farmhouse in 1955. Courtesy Smithsonian Institution.
In the following paragraph from Rufus Porter Revisited,Lipton could be described as taking a similar position towards Porter as John G. Neihardt took towards Black Elk in Black Elk Speaks:
Rufus Porter was the first American to deliberately formulate, practice andpromote the "natural" as against the academic approach to painting; the first to point to the richpossibilities of design as opposed to academic realism; the first to see the homely beauty of ruralAmerican farms and villages as unparalleled subject matter for American landscape painting. Porter was not only an art teacher but an active crusader for an honest American tradition in painting.To say that he was the first artist to appreciate and depict the plain New England countryside does not adequately define his unique position in the history of American landscape painting. Beforethe middle of the nineteenth century he wasteaching and preaching the beauties of American farm    scenery, and painting it in simple, lucid scenes on the walls of hundreds of New England homes and inns, while all the famous contemporary artists were painting in the manner of the Old World masters.
Both Jean Lipman and Rufus Porter  were  teaching and preaching the same truth as Emerson, who announced in "The American Scholar" in 1837 that "Our day of dependence, our long apprenticeship to the learning of other lands, draws to a close."  It's been a longer process than Emerson might have imagined, and perhaps Jean Lipton brought it up to its final close when she wrote that Porter "suggested painting and himself painted, not only the appearance, but the very spirit of rural New England in his time."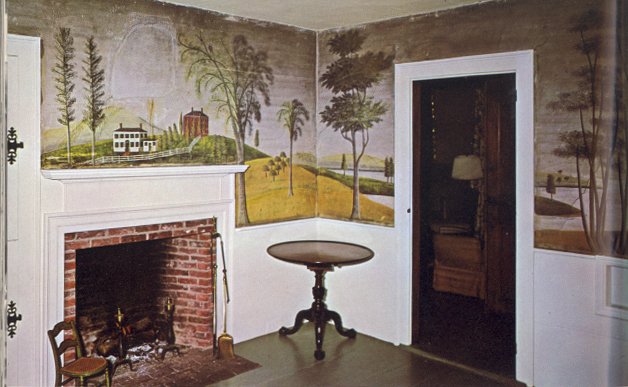 The Holsaert house in Hancock, New Hampshire was decorated by Rufus Porter
c. 1825-1830.