Home


Structural Products &  Services, Stairlifts
Furniture, Clocks, 
Accessories
Antiques, Folk Art, 
Fine Art, Auction Houses
Interior Design & Architecture

THE GOVERNOR CHAUNCEY CLEVELAND HOUSE
by Max H. Peters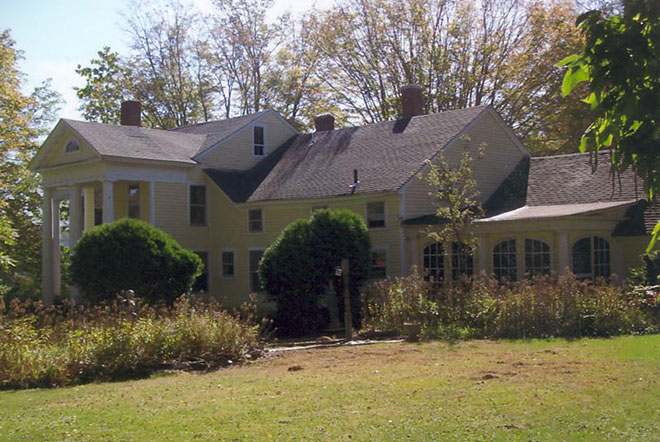 A side view gives a better idea of the house's size.

    The call was from Jim Morneau.  Jim owns Classic Home Hardware in Canton and for the past three years has been a steady source of great tips on potential stories for CTOldHouse.com. This time Jim was talking about an antique dealer he knew that was living somewhere out in the Quiet Country in an old house that used to belong to a Connecticut governor. He gave me a name and a phone number.
The name was Tom Nagy.  When I reached him, it turned out that the house was in Hampton and he would be happy to show me around. I knew Hampton as the former home to nature writer Edwin Way Teale and his wife Nellie. The Teals set it up so that after they were gone their 168-acre farm, Trailwood, was gifted to the Audubon Society as a nature preserve.
Tom Nagy was good as his word and gave me more than an hour of his time taking me through the house and around the property. The house was built in 1764 and remodeled in American Empire motif 1830.
| | |
| --- | --- |
| The Governor Cleveland house as seen from the street. It was built in 1764 and remodeled in 1830, when patios were added to the back. | This building directly behind the house, served as Governer Cleveland's law office. |
    Chauncey Cleveland, born in 1799, served as Governor of Connecticut from1842 to 1844, returning home to practice law in Hampton. He served as Congressman from 1849 to 1853, returning again to practicing law in Hampton. He also was elected to the state House of Representatives in 1863 and 1866, when he served as Speaker.  He had started his law practice in Hampton in 1819 and died there in 1867. He was very much a people's politician, rooted in Hampton and committed to the everyday good government of his state and his local neighbors, while he took a hand in the momentous events of the pre- Civil War and Civil War years. Tom Nagy, who moved into the house in the late 1960s, remembers speaking to an old local woman, Grace Stockberger, who told him that Governor Cleveland was instrumental in implementing child labor laws in Connecticut.



The present owner has decorated the house in what can only be described as eclectic splender. with an emphasis on American Empire.






Shadow of power lines are hardly noticeable on this elaborate cornice.




According to the local lore this settee was given to a Hampton lady by Robert Lincoln, son of Abraham Lincoln.