Home

Structural Products &  Services, Stairlifts
Furniture, Clocks, 
Accessories
Antiques, Folk Art, 
Fine Art, Auction Houses
Interior Design & Architecture

JOSEPH SCARROZZO: THE FIRST NINETY-EIGHT YEARS

| | |
| --- | --- |
| In Connecticut stories of great accomplishments in the arts there often is a grade school teacher who recognizes a child's talent early and goes to great lengths to encourage its growth. So it is with painter Joseph Scarrozzo of Farmington.  In 1930,Scarrozzo, the son of immigrant Italian parents, was attending Nathan Hale School in New Britain. His art teacher, he remembers, was Miss Gerard. She told him "I can't teach you. You know more about art than I do." She set him up with an easel in the back of the room and told him to paint whatever he wanted to. | Joseph Scarrozzo |
| | |
| --- | --- |
| Employee at Stanley Works |     The noted artist, Sanford Low, had agreed to teach a group of young students, one from each junior high school, at the New Britain Art League. With Miss Gerard's recommendation, Scarrozzo was the pick from Nathan Hale School.  In 1932, Scarrozzo won a scholarship to Vesper George School of Art in Boston. After he was there one year, Joe had to return home and go to work to help support his siblings and his sick mother. He did manual labor at the Stanley Works at New Britain, working as a press operator and then as a refrigerator door latch assembler, and spent every break sketching his fellow employees at work. |
He was one of the artists in the first exhibit of the Connecticut Watercolor Society. In 1936 Scarrozzo was hired by muralist Thurston Munson to join Sanford Low and Walter Korder in the painting of a number of murals in hotels, restaurants, and business buildings in New York City. This was the precursor to Scarrozzo being hired as a muralist by the WPA in 1939. Scarrozzo came up with the idea of painting three murals depicting the life and death of Nathan Hale. The first two were completed and installed at his alma mater, Nathan Hale School in New Britain before World War Two put an end to the WPA. The third mural was never painted. All during the time Scarrozzo was painting the murals, he was taking engineering classes at night at New Britain Trade School and Hilliard Junior College.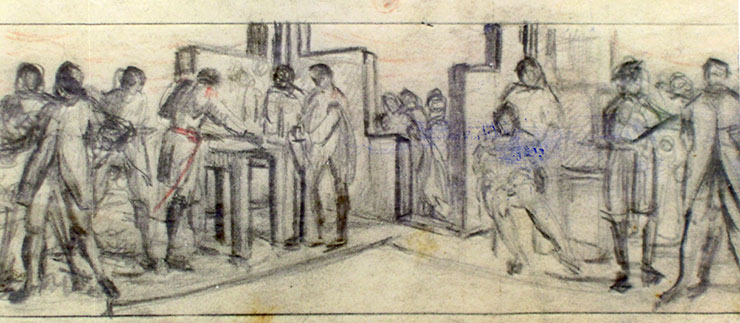 Above: The two preserved murals of Nathan Hale originally at Nathan Hale School
in New Britain, CT. Bottom: Sketches of the third mural.
When the WPA folded in 1941, Scarrozzo sold a painting to the Wadsworth Atheneum. Later he would sell a painting to the New Britain Museum of American Art. For work, he bounced around several small firms for a while, eventually landing at Pratt and Whitney Aircraft in East Hartford, where he had a career in production engineering and retired after thirty years in 1977. In 1948, he had married Angelina "Jill" Latina and with her raised six children in Farmington, four boys and two girls. All the years he worked at Pratt and Whiney, he was advancing in his art on his own time. He was very involved in the arts community, serving as president of the New Britain Art League for a number of years and as a lifetime member of the Connecticut Watercolor Society and the New Haven Paint and Clay. Before his retirement Scarrozzo, along with Wallace Stevens and Charles Ives, belonged to that Connecticut breed of career businesspeople who are also world-class creative artists.

When Nathan Hale School closed in the early 1980s and the building sold, Scarrozzo, who had kept up the murals every year in a pristine state, requested their relocation and return. It took three years of red tape, but the murals, which suffered damage and decay during this time, were finally returned to Scarrozzo, who kept them rolled up in his studio. In 1989, the John Slade Ely House, a non-profit center for contemporary art in New Haven, held an exhibition, "Joseph Scarrozzo: Early and Late Works."  For this exhibition, Scarrozzo mounted the murals on boards; they remain in this state at Scarrozzo's studio today, awaiting a federal grant that will allow for their complete restoration and eventual permanent installation in a public place. As for Joe, he is sharp as a tack and he continues to paint or draw every day.  He feels that at age ninety-eight his tomorrow is as full of promise as anyone's, and he remains as game as ever.




Joseph Scarrozzo at the Farminton Village Library Exhibition in 1964.




Nathan Hale apprehended by British soldier




Watercolor of Farmington Low-lying Areas at Dusk