Last time we looked at the kind of furniture you can expect to see at the ever-growing, increasingly popular Mansfield Marketplace, which happens every Sunday from late March through Thanksgiving.  The Marketplace has closed for the winter, but spring will be here before you know it, and on March 22nd the crowds will return to a flea market unsurpassed in Connecticut for the variety and affordability of its offerings.
This trip we'll focus on what kind of ceramics and glasswareyou can expect to find at the Marketplace.
It was the third Sunday in October. At 8:30 am, when I drove off to the Marketplace, it was nut-cracking cold and the sky was covered in grey-black clouds that looked like they were about to let loose with torrential rain.  I remember thinking, "The only people that are going to show up are folks selling Eskimo crafts."  By the time I arrived, as luck would have it, the sky lightened up considerably. There was no rain that morning; the sun even broke through the clouds now and again. There were more dealers and buyers than I thought there would be. During my last visit, in June, it seemed like there were well over 300 dealers; now it looked like there were around 200.

If you're looking for a quick summary, I can tell you that this is the place to go for midcentury and Depression glass and china at bargain prices, as well as early 20th century stoneware. Look carefully enough and you'll find treasures that date from the late 1800s to the 1920s
Bill Burnett from Ashford was the dealer who most resembled an Eskimo.Instead of whale-bone carvings he was offering glassware that he told me "runs the gamut" of age and style.A hand-lettered cardboard sign over his booth said "Spiritual Surplus."  When I questioned him about his business, he told me "This is entertainment."
Dave M. from Vernon was offering a lantern music box from the 1920s.

Dana Caviggia from Norwich was selling a wide selection of glassware and pottery, including a nice set of Westmoreland Glass Company milkglass, along with a dozen stoneware jugs priced between $7 and $48.

Kara Phadbel from South Windsor offered a large cookie jar in the shape of a friar holding a sign, "Thou shalt not steal." For the asking price, $10, it was a steal for whoever snatched it up.   

Collectors of British transferware with American history themes will have to keep looking for a "Home of Calvin Coolidge" plate.  I saw one that morning selling for $5 and I am now looking at it as it hangs on the wall next to where I write.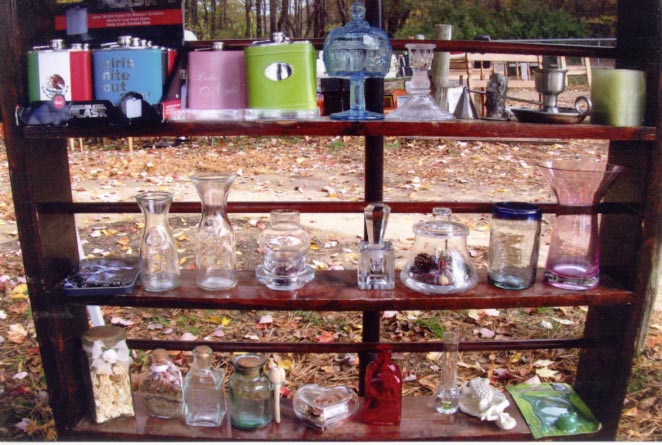 Bill Burnett, says his wares "run the gamut" of glassware. "This business is entertainment for
Me", he says.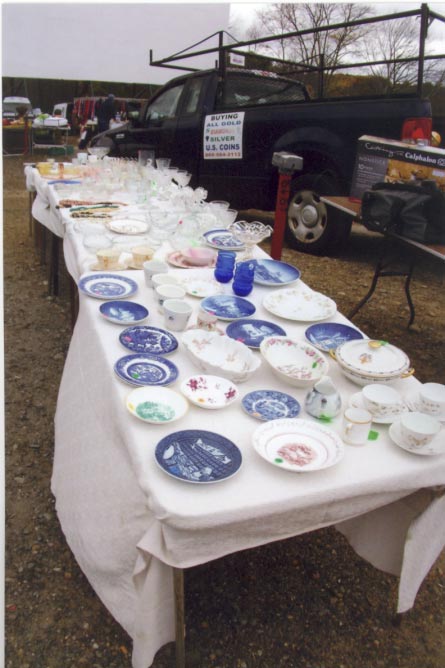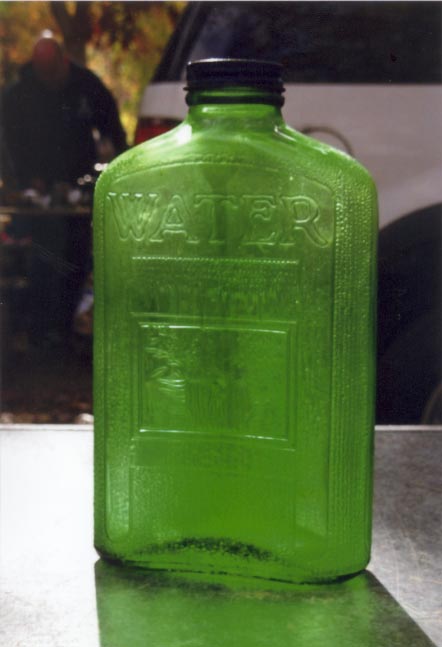 A vender from Manchester was selling this 1930s green glass water bottle for $15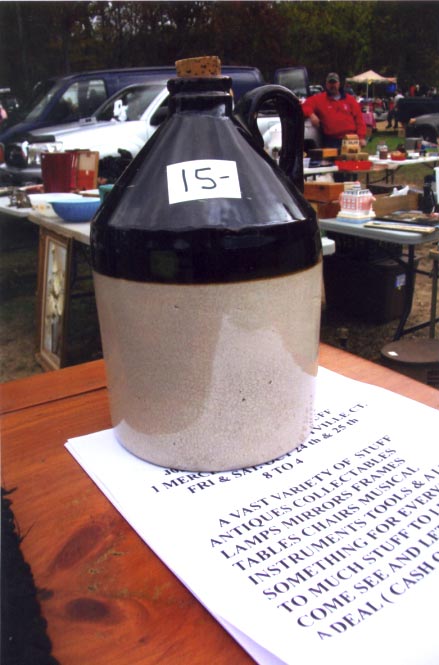 Dana Caviggia, from Norwich, offered stoneware jugs priced from $7 - $48.