Home

Structural Products &  Services, Stairlifts
Furniture, Clocks, 
Accessories
Antiques, Folk Art, 
Fine Art, Auction Houses
Interior Design & Architecture
IN THE SPIRIT OF MONTY HALL
FURNITURE AT THE MANSFIELD DRIVE-IN FLEA MARKET
    This past June, I made my second trip to the Mansfield Drive-in Flea Market. On my first trip, I had wandered all over the place, just getting a feel for the scope of what was available from what seemed like 300-plus venders and enjoying the family picnic vibe.

My second trip was made in order to write this, the first in a series of articles called" In the Spirit of Monty Hall," each article focusing on one category of goods and/or collectables to be found at the Mansfield Drive-in Flea Market.

This time I was checking out furniture. After four hours of working my way past what seemed like 400-plus booths I would say that, if you are looking for solid but not immaculate Colonial, Victorian, and Mission reproductions from the '30s to the '60s, this is a good place to find them, dirt cheap, along with the occasional late Victorian antique table or chair you can scoop up for $40. People stop here on the way to Brimfield, load up on the good stuff, sell it for three times what they paid for it, and still give their customers a good deal.




Steve from Vernon had this reproduction ladderback chair ca. 1900 for sale for $75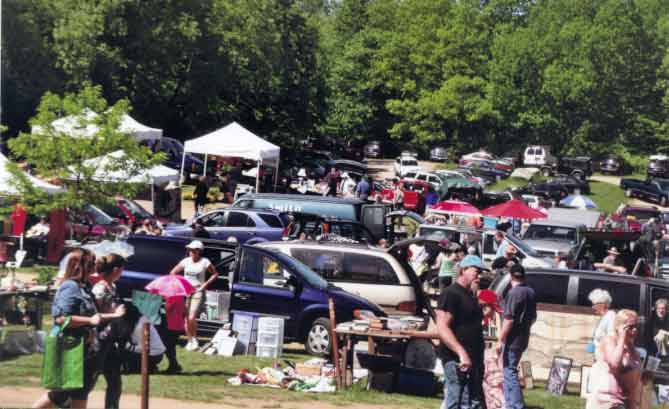 Overflow of dealers across field adjacent to Mansfield Drive-In
On this outing, I visited three dealers in different areas that were offering really fine Mission chairs in pairs and trios for $75 a chair.  An authentic late Victorian "birthing chair" that needed a little bit of love was offeredfor less than $100.

In the back of the parking lot, owner Mike Jungden, a man Yankee magazine calls an "unreconstructed hippie,"  has remodeled an old chicken coop and extended it 400 feet to create an outstanding indoor venue.  In his booth at the west end of this long hallway, I found the furniture creations of Peter Tierinni, along with Peter Tierinni himself.  Peter, who hails from Vernon, hates to see any nice piece of woodwork go to waste. He showed me a replica Colonial desk he was selling for $40. The original trim on the desk had been damaged, Peter told me, so he had replaced it with trim moulding he had found on an old baby crib. It looked super, as did the server Peter had made from the back of an old headboard, also for sale for $40.


More Peter Tierinni recycling magic. The classic replica desk has been retrimmed with moulding fron an old baby crib. Peter was selling this desk for $40.




Another nice Peter Tierinni do-over. A server made from the back of a ca. 1960s bed headboard. Yours for $40.



Eco-thrift action. Peter Tierninni stacked old hotel bureaus on an old end table to come up with this nifty piece. He had two that he was selling for $40 each.


Windsor potty chair and fan club.
Make me an offer.
| | |
| --- | --- |
| Steve brought this 'birthing chair" ca. 1880 on sale for $50. | Mansfield bounce |
| | |
| --- | --- |
| | Steve holds up a ca. 1900 artillery box constructed with dovetails. |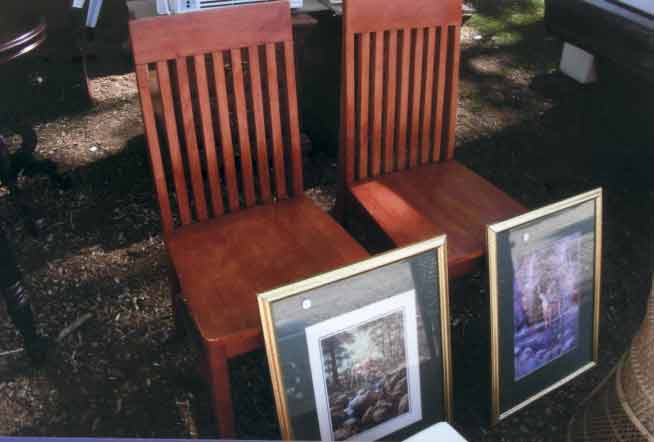 Solid mission-style chairs, $75 each