Home

Structural Products &  Services, Stairlifts
Furniture, Clocks, 
Accessories
Antiques, Folk Art, 
Fine Art, Auction Houses
Interior Design & Architecture
ON EVEN TERMS WITH TIME:
The Tradition of Connecticut Valley Furniture Making Continues with Peter Aleksa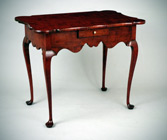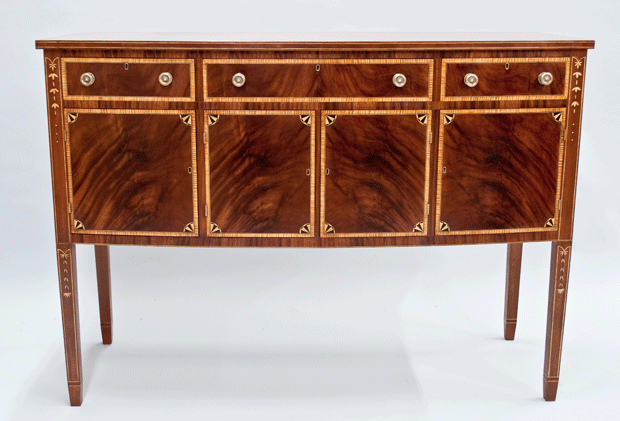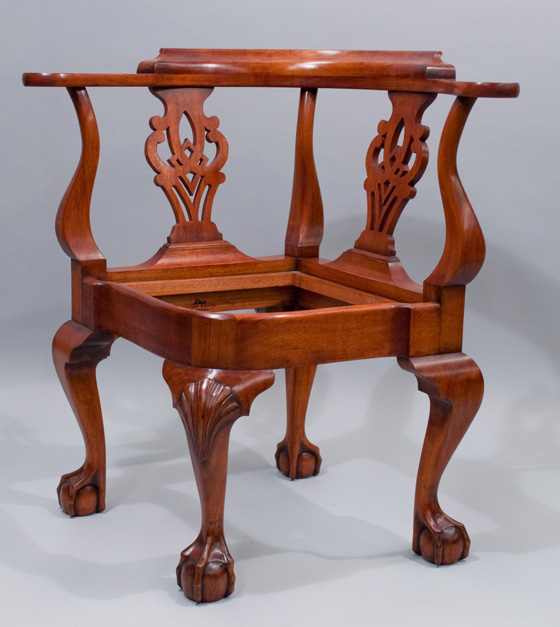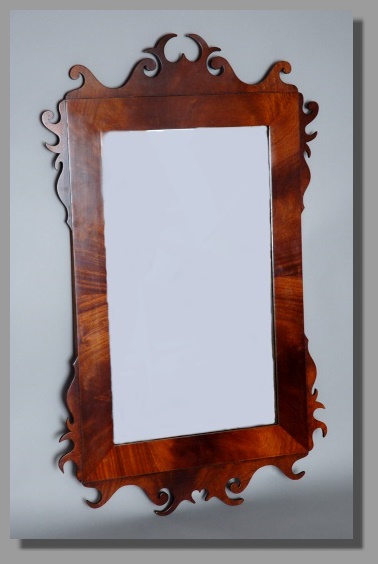 L to R - Wethersfield CT Queen Anne, porringer top cherry tea table, circa 1740-1760; Portsmouth Bow-Front Sideboard; New York Corner Chair; Federal Looking Glass

There is quality reproduction furniture, and then there is museum quality reproduction furniture. In a remodeled apple storage barn behind his home in Canton,  a forty-year-old former marine biologist named Peter Aleksa handcrafts living copies of Federal and Chippendale chairs, tables, beds and chests of drawers, and all of them meet the museum test.  Aleksa operates as Cherry Brook Woodworks, of which he is the sole proprietor and sole employee.

In 2006, Aleksa was commissioned to make twenty-four hand-made square-back Federal-style chairs for Gracie Mansion, the New York City Museum that also serves as the Mayor's residence. As reported  in an article in the Hartford Courant by Anne Farrow, the commission came through New York Mayor Michael Bloomberg's decorator, Jamie Drake, who saw two Federal  mahogany chairs—one two hundred years old and the other a two-year-old copy by Aleksa, and he was sold. Diana M. Carroll, curator and assistant director of the Gracie Mansion Conservancy was quoted in the same article, talking about the finished chairs: "Peter's reproduction is perfect. These chairs will be located in the dining room of Gracie Mansion, which is part of the original 1799 house."

This past June this writer visited "A Tradition of Craft," an exhibit at the Connecticut Historical Society museum at Hartford. Examples of the finest reproduction 18th and early 19th century furniture made today were placed alongside genuine period pieces, including two chairs and a dresser made in Weathersfield  around the time of the Revolution by Eliphalet Chapin, who many consider the finest furniture maker ever to work in the Connecticut River Valley. 

Aleksa's entry, a Federal Portsmouth bow-front sideboard was a standout, with its confident stance and combination of mahogany, tiger maple and string inlay. The next morning I visited Aleksa's workshop. He showed me some of his work in progress. We were looking at his tools. He told me how he had grown up on a small farm in Cheshire, Connecticut, and had studied environmental science in college. After a few years as a marine biologist, his childhood passion for woodwork was burning him up.  Deciding to make an early career change, he convinced his parents to stake him to two years at the venerable North Bennet Street School in Boston, where he locked onto period furniture and cabinet making and has never let go. As we were talking, Pete's son Ty, who is 8, came walking into the shop. Pete and his wife Maile have two children, both boys. Ty's brother Quinn is 3.  Maile works as a speech therapist for the local school district. Outside the shop, Pete can be found coaching and playing soccer with his boys. 

  In Colonial times, boys from Connecticut would apprentice out to first-rate cabinetmakers in Philadelphia, as Eliphalet Chapin did, or Boston, then return to craft furniture for the rest of their careers in their home towns.  The level of craft in furniture of the Federal and Chippendale periods are a wonder that we almost take for granted today, which is why we need someone like Peter Aleksa to remind us just how attractively things were made in the long-ago. Emerson said that when we dedicated ourselves to the past to the betterment of the present, it put us on even terms with time, a place we always want to be.