Home

Structural Products &  Services, Stairlifts
Furniture, Clocks, 
Accessories
Antiques, Folk Art, 
Fine Art, Auction Houses
Interior Design & Architecture

CHISTOPHER GURSHIN'S BLOOD MOON 
At night on September 27, a Sunday, the heavens put on a bravo supermoon show. Not only was the moon in full eclipse, it was also as close to the earth as it ever gets. A lunar extravaganza, and our friend  Americana artist Christopher Gurshin was right there for all the action, aiming his camera straight up into the sky. In his photograph the moon looks red because the earth completely blocked direct light from the sun. The moon's atmosphere refracted the sunlight, but part of the sunlight's spectrum was removed as it refracted, and that's what made the moon appear red.

That's the scientific explanation, anyway. Gurshin's reaction to the moonshow in his spirit and soul is another story, and that tale is told in his painting "Blood Red Moon Halloween Night," a fantastical old-time Halloween scene imbued with that eerie red moonlight.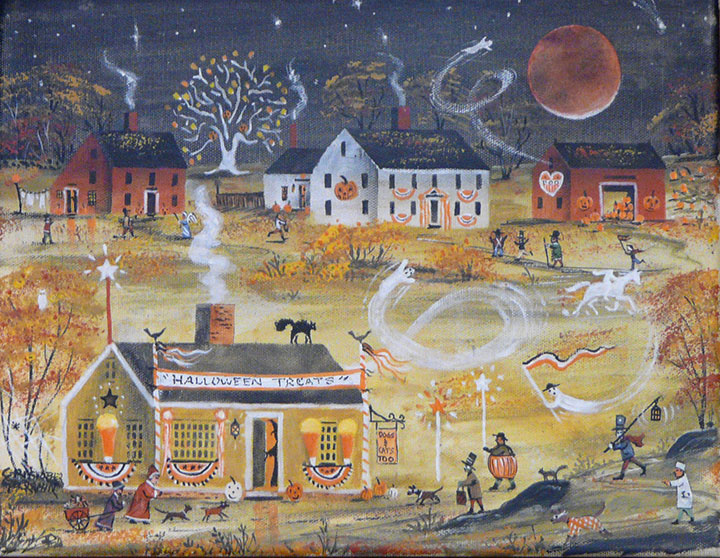 "Blood Red Moon Halloween Night"   Oil on canvas.
A lot more is happening in this painting than first meets the eye.
Signed and framed prints of this painting are available for $50, including postage.
Christopher Gurshin
1313 Main Street
Glastonbury, CT 06033
860-633-7707
chris@christophergurshin.com
Connecticut residents add 6.35% sales tax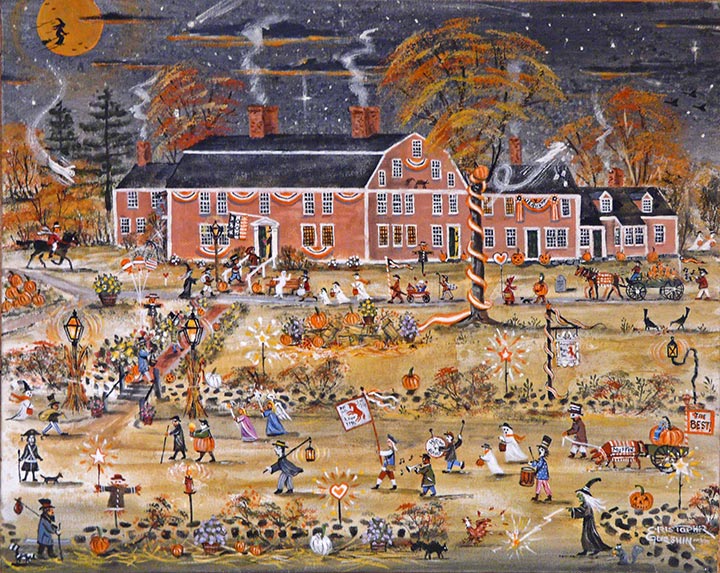 "Wayside Inn Halloween Night"  Acrylic on canvas.
Chris painted this the week before the lunar eclipse. In the 18th century the inn, made famous by Longfellow's "Tales of the Wayside Inn," and located at Sudbury, Massachusetts, was owned by the Howe family in the late 18th and early 19th century. Local legend has it that the innkeeper's daughter Jerusha spent decades waiting for her sweetheart to return from Europe, which he never did. The story goes that Jerusha has been haunting the house since she died in 1842. Gurshin has Jerusha's ghost coming out of an upper story window on the right side of this painting.