A quick turn from the busy 4 Highway near downtown Farmington onto gravel Norton Lane puts you in a world that both predates and subsumes our frantic times.

You have landed in Jonesville, where scores of metal sculptures, many of them ten or more feet tall, surround authentic Colonial and Colonial-replica houses on both sides of the lightly wooded lane.  One of the houses is a 1790s blacksmith's home converted into an apartment house.  The blacksmith's stable has been converted into a residence.  An 1803 house has been moved here from another location. In addition, there are two replica 18th century houses built in the years before World War II. All of this is part of the legacy of a remarkable couple, Fred and Rebecca Jones.  Fred Jones, the son of a Welch hotel owner, came to Connecticut in the late 1920s from Wales to work in construction with his uncle; he became a licensed contractor who built homes in East Hartford and Manchester. Rebecca was an artist and one of the founders of the West Hartford Artist's League. During the 1930s, at Rebecca's urging, Fred constructed Norton Lane beside the old blacksmith's shop, naming it after his father's hotel in Wales, the Norton Arms.  The two replica 18th century homes were built according to plans designed by Fred and Rebecca together. All are rented out and are still in the hands of the Jones family.

Sometime in the 1950s, Fred was inspired to create futuristic metal sculptures, some of them quite tall. Fred collected discarded metal castings from both Fafnir Bearings and Stanley Tool for his creations, which stand not in ironic but rather iconic contrast to the Colonial ambiance.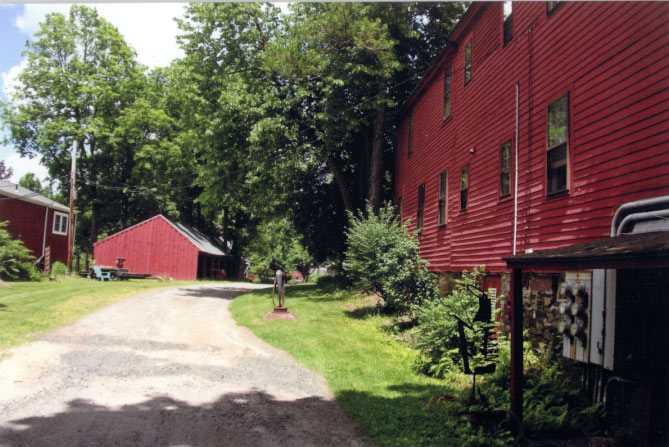 A quick turn off busy Route 4
and you're in an older time.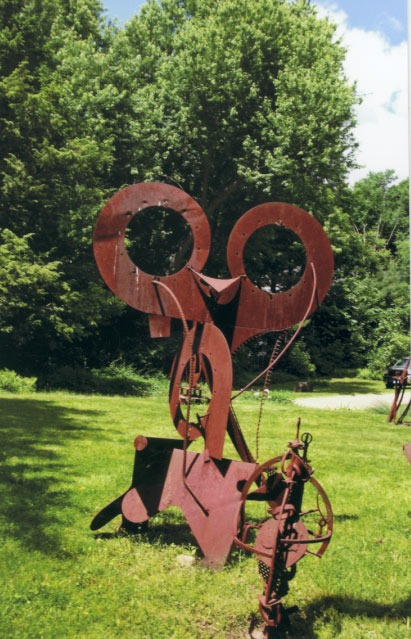 The Editor wishes to thank Sharon McLaughlin Gowen and Oliver Jones for their assistance with this article.